Date:
Wednesday, February 22, 2023
Presented By:
Address:
Virutal
Registration Fee:
The registration fee will now be included in the purchase of a Virtual Education Series Bundle. All make up presentations, the completed presentation recordings and remaining original presentations will be $100.00
Please note any one that purchased the original Victoria Education Series will recieve access to the three virtual presentations from the originally planned in-presentation.
Available PDP Points:
2 Points
Dress Code:
Golf Casual
Itinerary:
The Victoria Education Series is moving to an online format for your convenience. Registered attendees can join the event without the need to re-register. Stay tuned for the updated dates which will be confirmed soon.
Don't miss out on the engaging presentations from our expert speakers:
Michelle McCann, Uplands Golf Club on March 8, 2023 at 10:00am PST
Jason Giesbrecht, The Golf Performace Project - date to be determined
Kyman Chan, Grant Thornton - March 20, 2023 at 3:30pm PST
SPEAKER LINE-UP & Dates:
MICHELLE MCCANN, Class "A" Professional, Uplands Golf Club - March 8th, 10:00am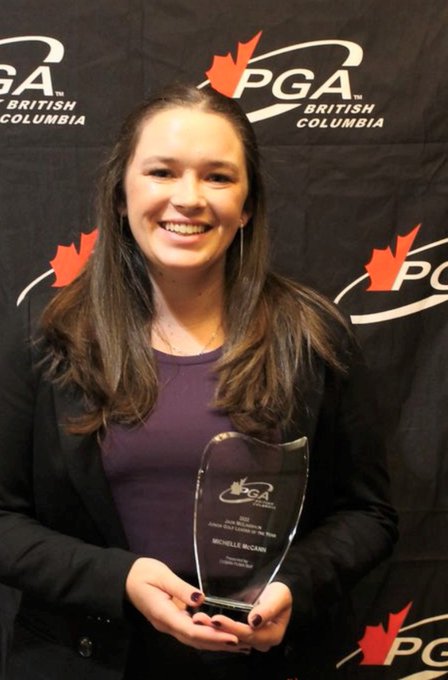 Topic: Teaching the next generation; challenges and opportunities
JASON GIESBRECHT, Head Teaching Professional, The Golf Performance Project - Date to be determined
Topic: Does Club Fitting Matter?
KYMAN CHAN, Grant Thornton LLP - March 20th - 3:30pm
Topic: Accounting and Structure for Small Business 
Confirmed Attendees:
Jason Giesbrecht, The Golf Performance Project
Michelle McCann, Uplands Golf Club
Steve Liddicoat, University Golf Club
Callum Ashby, Highland Pacific Golf
Andrew Hajer, Arbutus Ridge Golf Club
Jayme Young, Arbutus Ridge Golf Club
Ryan Tofani, Chilliwack Golf Club
Axle Riley, Ardmore Golf Club
Blake Hamilton, Ardmore Golf Club
Gina Hosie, Victoria Golf Club
Ian Stone, Uplands Golf Club
Sean Hay, Uplands Golf Club
Chris Wilson, Nanaimo Golf Club
Arlen Wocknitz, Victoria Golf Club
Gordy Scutt, Victoria Golf Club
Mark Valliere, Glacier Greens Golf Club
Derek Orr, Iron & Wood Golf Simulators
Daewoong Gym, Unaffiliated
Richard Ingle, Victoria Golf Club
Cailean Hourigan, Victoria Golf Club
Tyson Girardet, Victoria Golf Club
Lindsay Bernakevitch, Victoria Golf Club
Simon Hassel, Highland Pacific Golf
Nick Crookall, Glacier Greens Golf Club
Tyler Robertson, Olympic View Golf Clib
Scott Kolb, Fresh Golf Solutions
Lee J.H. Lee, Hazelmere Golf & Tennis Club
Isaac Morris, Victoria Golf Club 
Keith Martin, Tower Ranch Golf Club
Jeff Palmer, Highland Pacific Golf
Megan Ratcliff, Sotey Creek Golf Club
Dylan Cheyne, The Golf Performance Project